YEAR OF MISSION 2015
As you may know the 2012 Down & Dromore Diocesan Synod unanimously declared the year 2015 to be a Year of Mission across our diocese.
Over the past decade we have made faithful progress in proclaiming the Good News, baptising and nurturing new believers and meeting the needs of our communities. We have seen steady growth in the number of parishes developing new initiatives and in the number of workers and volunteers needed to run them. As a diocese we are probably serving our communities better than at any time in the past 10 years, and for this we must be grateful for God's blessing and the faithful work and financial giving of parishioners just like you.
Now is the time, I believe, for us to build on this work and prayerfully reach out more fully to the communities around with the message and work of the Gospel. It fills me with hope that this diocese will be aiming to do this in a powerful way in 2015.
However, there is much for us to do if we are to prepare the ground well to reap a harvest in 2015. Each parish and ministry across our diocese will have to prayerfully plan for this year, not just in the months beforehand, but also in 2013, and 2014.
It is with this mind that we will be meeting with all parish vestries in the week beginning 20 May 2013 to pray and to discuss how we might best prepare for mission. We believe that Select Vestries are a key element in the mission of our church and much of the success of our planning and preparation for 2015 will depend on the vestries elected, not just at Easter 2014, but also this coming Easter.
This is an exciting development but it also an extra responsibility that we will be asking of Select Vestries. I think it is important to bear this in mind as they are chosen to serve as representatives on Select Vestries over the next couple of years.
Yours sincerely in Christ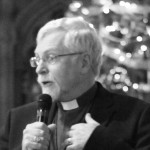 \