Worship Times

Dollingstown

Sunday: 9:30am

(CAFE CHURCH: 2nd & 4th Sundays of each month 7:40pm)

Magheralin

Sunday: 11:30am & 6:30pm

(COMMUNION: 4th Sunday of each month 8:30am)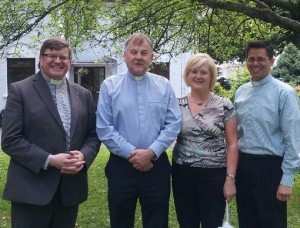 Graham (second from left and pictured with his wife Barbara) completed his time with us in the parish during the summer.
Graham's ordination as presbyter, and the formal start of his ministry as Curate Assistant of Ballymore, Tandragee takes place in St Patrick's Cathedral, Armagh on Wednesday 10th September at 7.30pm.
If you are keen to attend, but need transport, please contact the parish office by Monday 8th September.
Get in touch

Parish Office
3 Newforge Road
Magheralin

parishoffice@magheralin.org
Tel: (028) 9261 9569