Senior's Christmas lunch this year happened on Tuesday 11th Dec at the recently renovated Hall at Magheralin Parish. About 80 people attended the event. It was a great time for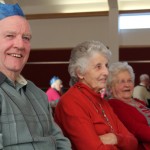 fellowship; an opportunity to catch up with old friends and get to know some people better. The atmosphere was very friendly and lively and everybody seemed to have enjoyed themselves!
"It was absolutely beautiful"     Rodney McCarthy
"The dinner was lovely"   Carrie Hull
Tables were beautifully set up with Christmas decoration, like the traditional crackers that prompted some good laughs. Turkey was the main dish. It was served fresh and warm with vegetables and roast potatoes,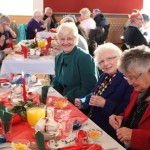 followed by some options of trifles and, of course, tea and coffee and mince pies afterwards. It all looked delicious and well organized, thanks to Ann Irwin and the team of more than ten people that worked hard to serve and make sure that everything went smoothly.
The highlight of the day, however, was the coming of the choir from Maralin Village Primary school. They presented a Christmas performance that brought them two trophies at the Banbridge Speech and Drama Competition this year. They sang a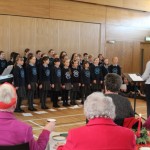 few songs, did a couple of speech and drama acts and read some Gospel stories. It was simply amazing! Their trophies were well-deserved and their presentation was a special moment of the event. Jim Conn said: "I liked it all. I've never seen it"; and Kathleen Boyd commented: "It was gorgeous. The wee choir is great".
To finish the day, the guests were given nicely decorated Christmas cakes kindly made by the Boys Brigade as well as sweets from the Parish. Many thanks to all that came, to Maralin Village Primary School and to everybody that served in different ways.
Monica